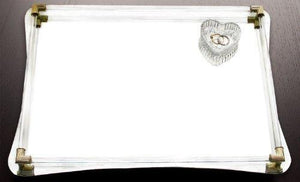 American Atelier Decorative Jewelry Tray - Beautiful Jeweled Mirror Valet Catchall w/Handles for Jewelry, Perfume, Toiletries or Makeup for Dresser, Vanity, Table, Bathroom & More
Regular price
$25.99
Sale price
$49.99
Brand: American Atelier
Color: Silver
Features:
GORGEOUS WOMEN'S JEWELRY TRAY - Stunning Valet Serves as an Organizer & Storage Spot for Necklaces, Rings, Bracelets, Earrings, Perfume, Makeup & More
SPACIOUS, OPEN DESIGN - Generous 12" x 16" Surface Area Lets You Display & Easily Access All Your Toiletries & Trinkets Without Searching Through Drawers
DAZZLING JEWEL DETAIL - Elegant Design Includes Diamond-Like Jewels That Sparkle & Shine, While Sleek Glass Mirror Surface Adds Chic Style to Any Room
CONVENIENT BUILT-IN HANDLES - Carry Handles Let You Use the Catchall as a Striking Centerpiece for a Dresser, Vanity, Counter, Dining Room or Coffee Table
HIGH QUALITY CONSTRUCTION - Thick, Durable Glass Cleans Easy, Lasts Forever & Arrives Carefully Packaged; Perfect Present for Birthday, Christmas, Holiday, Etc.
Publisher: Jay Imports
Details: Everything that sparkles… is now organized! A vintage vanity essential is finally redesigned for the modern fashionista with this stunning Decorative Jewelry Tray from American Atelier. Thoughtfully styled for ease of access and utmost elegance, the chic valet features a generous 12" x 16" surface area, which is perfect for organizing and storing jewelry, perfume, toiletries, makeup and other small trinkets atop a vanity or dresser. Intricate jewel detailing, heirloom-quality glasswork and two gorgeous carry handles infuse instant sophistication, all while promising many years of dependable catchall convenience. Display it proudly in any bedroom, bathroom, dining room or other living space. American Atelier brings you unique gift ideas and collectibles crafted with the time-honored techniques of yesteryear. Decorate your trendy abode with our entire collection of home décor and other artful accessories, and purchase confidently knowing your treasure always arrives in peak condition. It's time to say goodbye to your boring jewelry boxes and fussy sectional compartments. Display your charms proudly (and practically) by adding a Decorative Jewelry Tray to your cart today! What You Get 1 x Decorative Jewelry Tray from American Atelier Instant access and easy storage for all your small stuff Dozens of diamond-like jewels that shimmer and shine A multipurpose marvel perfect for any room or surface! Specs & Details Measures: 12" x 16" x 2" Material: glass accents, mirrored base Recommended for decorative use How to Enjoy Display your beautiful valet on a vanity or other flat surface Behold its sparkly aesthetic, and arrange your favorite jewelry on top Enjoy freedom of access as you try things on and dress for the day Flaunt a fabulous jeweled tray in every bedroom, bath and beyond!
UPC: 88235961242
EAN: 88235961242
Package Dimensions: 18.0 x 13.7 x 2.0 inches