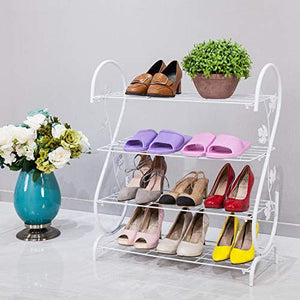 AXDT Iron Multi-Layer Shoe Rack Shelf Storage, Multifunctional Metal Shoe Stand Organizer Cabinet for Closet Bedroom Entryway
Regular price
$28.23
$0.00
Shoe Rack Organizer- do you have a large, messy shoe collection and find it tough to locate the perfect pair of shoes The Shoe Rack Organizer makes light, easy work of the toughest shoe organizing tasks, for easy access to your shoes in a hurry!
Four Breathable Shelves- want to store your shoe collection anywhere The Shoe Rack Organizer has Four-tier slatted shelves make shoes breathing from the gaps, preventing any odor, as a stand alone shoe rack, or hidden from view in a wardrobe!
Ultimate In Convenience- Perfect for adult men women and kids shoes and boots. This floor shoe racks dimensions make it easy for you to maximize your small closet space
Easy To Assemble & Fun Of DIY- The unit snaps together for easy assemble, you can set it up quickly with no tools
Optional Functionality- You can remove a layer to fit not only boots, heels, but also fit purses or other larger accessories. An elegantly modern shoe rack for bags, plants, toiletries, baskets, etc.The storage rack also can be used to help kitchen and garage organization; it works great for food containers, canned food, spices, laundry supplies, pet supplies, heavy cans of paint, toolboxes, gardening supplies, extension cords, and more.
Specifications: Two Colors: White Material: Metal Product Size: 25.59"" x 10.63"" x 22.83"" (65x 27 x 58cm) Weight: 2.4kg Feature: Do you have a large collection of shows, but rather than keeping them neatly organized, often find them in a mess and hard to find the perfect pair in a hurry Rather than simply laying flat, would you like a super stackable space saving solution that allows you to store your shoes easily and conveniently If so, we have created the perfect shoe organizing solution for all your needs! ensuring you'll have more than enough easily storage spaces for your entire shoe collection! Made from the highest quality, durable metal materials, the Organizer is easily assembled, for a long lasting, sturdy construction that won't fail. The convenient stacking design is perfect for storing shoes anywhere, either easily accessed as a rack or out of sight in a wardrobe, and you've the perfect solution to a messy shoe collection! The Storage Organizer is a convenient, easy to use storage solution, with a number of key benefits: Easily and simply organize your messy shoe collection with a convenient rack. Super high quality construction for a rack that won't weaken or collapse. Simple to assemble without tools. If you're looking for the perfect solution to organize your large shoe collection the Organizer is the perfect product! Package Included: 1 x Shoe Rack
AXDT Amazon ASIN B07GZXLV7T Home & Kitchen Storage & Organization , Clothing & Closet Storage , Shoe Organizers , Free Standing Shoe Racks