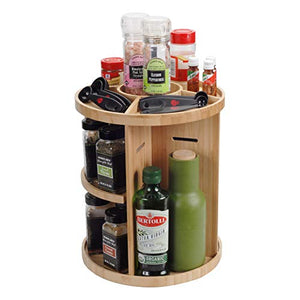 Bamboo 360 Rotating Spice Rack & Adjustable Multi Level Kitchen Organizer with Holder for Utensils, Spatulas, Serving Spoons & Other Cooking Tools
Regular price
$54.95
$0.00
Rotating 360-degree kitchen organizer tower to help organize spices, sauces, kitchen utensils and other cooking tools
ADJUSTABLE dividers (4 included) to customize your tower to fit your exact needs and the different shapes and sizes of all your frequently used kitchen products. Plus a BONUS CADDY holder included for utensils, spatulas, tongs and other cooking tools.
EASY and SIMPLE assembly. Insert your dividers into the cut-outs and you're done. (Tower is pre-assembled and sturdy)
Multi use – Store all your items in one place. Can be used to organize and declutter any items in bedrooms, bathrooms, closets, garage and classrooms.
A trusted MobileVision branded product. Friendly and responsive Customer Service team that aims at creating a positive shopping experience for you. For any questions or concerns, please contact us by phone or email anytime. (Contact details located in product description)
MobileVision Amazon ASIN B07GSKRDLT Home & Kitchen Kitchen & Dining , Kitchen Utensils & Gadgets , Seasoning & Spice Tools , Spice Racks