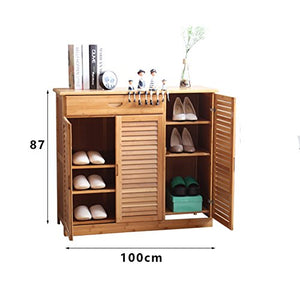 DULPLAY Shoe Rack,Bamboo Shoe Rack,Entryway Shoe Shelf Change The Shoes Stool Stand Shelves Stackable for entryway Bedroom 3-5 Tier 8-20 Shoes -K 87x100cm(34x39inch)
Regular price
$249.99
$0.00
Made Of 100% Natural Bamboo Eco-friendly Material, This Storage Rack Is Stable, Durable, Non-toxic And Eco-friendly.
Compact Design The Shoe Rack's Compact Size Makes It A Perfect Fit For Any Space In The home. It Can Fit In Any Corner Or Nook Of Your house. Moreover, It Is Lightweight, Which Enables Easier Portability Throughout The house.
Easy assembly and disassembly: Antirust and durable screws can be installed and disassembled repeatedly, Tools provided. Two hollowed out handles for easy carrying
Diy as you wish: Every layer is independent, You can remove a layer to fit boots, Heels etc. Also can be separated into two 3-tier shoe racks according to your need.
Installation instructions details: Provide installation instructions. Provide simple installation tools
Made Of 100% Natural Bamboo Eco-friendly Material, This Storage Rack Is Stable, Durable, Non-toxic And Eco-friendly.
The Bamboo Shelf Is Suitable To Be Placed In The Hall, Living Room, Bed Room, Balcony,Etc. With Two Handles For Simple And Convenient moving.
Multi-use: The Bamboo Shelf Is Suitable To Be Placed In The Hall, Living Room, Bed Room, Balcony,Etc. With Two Handles For Simple And Convenient moving. Also With Bamboo Rack Will Convenient For Placing Shoes, Towels, Sundries, Books, Plants, Spice And Small Appliances In Many places.
Easy To Assemble And Strong Stability: Designed With Removable built-In Fittings, All Fittings Have Been Treated For Rust Prevention, The anti-Rust And Durable Screws Make The Rack More Stable And Easy To Assemble And disassembled.
It Can Fit Up To 8-20 Pairs Of Adult Sized Shoes
Installation Instructions Details: Provide Installation Instructions. Provide Simple Installation tools

Number:3 door
Style:Simple modern
Furniture:other/Other
Material:Bamboo wood

DULPLAY Amazon ASIN B07CCK33J6 Home & Kitchen Storage & Organization , Clothing & Closet Storage , Shoe Organizers , Free Standing Shoe Racks