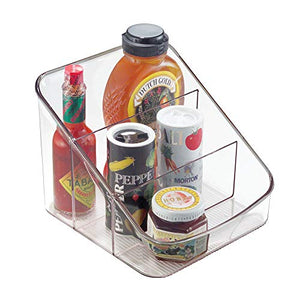 iDesign Linus Spice Packet Organizer Bin for Kitchen Pantry, Cabinet, Countertops - Clear
Regular price
$8.93
$0.00
PACKET ORGANIZER: Kitchen storage solution – 3 compartment container for spice and gravy packets.
EASY-VIEW DESIGN: Organizer's graduated design keeps smaller packets visible at the front.
CLEAR & STRONG: Sturdy clear, plastic packet organizer with 3 compartments and ribbed bottom.
MULTI-FUNCTIONAL: Versatile storage container for use in kitchen, office, utility or craft room.
THE INTERDESIGN PROMISE: Bringing you elegant, affordable home products for over 40 years.
Organize packets in your pantry or kitchen cabinet, keeping smaller items easily visible at the front of your shelves. Ideal for storing spices, gravy and seasoning packets, coffee accessories, tea bags and more, this clear plastic organizer has separate compartments to segregate different packets while keeping them neat and tidy within your cabinets. The practical design features different height sections, so your smaller items stay easily accessible at the front of your kitchen cabinet shelves, and ribbing detail stops the packets from sliding around. Perfect for the kitchen, the storage container can also be used to organize cabinets and countertops in offices, bathrooms, utility rooms and craft or hobby rooms. InterDesign's creative products enhance your décor, turning simple home solutions into must-have accessories that shine. Designed in the USA, we are proud to produce a wide selection of high quality home, bath and storage solutions that excite, inspire and charm. Stylish, functional and affordable, our products have been enriching customers' homes for over 40 years. InterDesign: innovative products, exceptional value.
iDesign Amazon ASIN B002BRU8Q6 Home & Kitchen Kitchen & Dining, Storage & Organization, Kitchen Storage & Organization Accessories