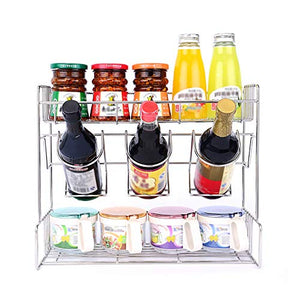 Kitchen Standing Rack Storage Organizer Spice Jars Bottle Shelf Holder Rack - 304 Stainless Steel
Regular price
$91.72
$0.00
Design:2-Tier Free Standing Countertop Multi-Purpose Rack has wider taller shelves to ensure most spices, jars, cans, canisters, and condiments remain easily accessible when cooking or baking.
Multi-Purpose: Utilize in any room of the house to store, sort, and easily access items. Usable in cabinets, on shelves, or in pantry's. Kindly Note: Rack only. Pictured jars, spices or other items are not included.
Perfect Workmanship: Smooth curves and good craft can protect your hand from scratch.
Material: Constructed with 304 stainless steel. Solid base for a stable hold.
Perfect for :storing spices, condiments, grains, canned goods, salt & pepper grinders, or home items such as lotions, make-up, nail polishes, face towels, cleansers, soaps, shampoo, and much more.
Keep spices, sauces, powders, and seasonings readily available and accessible with the 2-Tier Spice Rack Organizer. The wide and tall countertop spice rack accommodates larger spice bottles and cans offering a space-saving and easy to access solution for chefs and cooks. The free-standing rack can be moved and positioned in almost any location including kitchen countertops, cabinets, pantry, or even other rooms in the house. It can be easily utilized for bathroom, make-up and nail polish storage or used for storing crafts goods and ribbons. The versatile and multi-purpose rack is a great solution for kitchen or home storage and organization.

Kindly Note: Rack only. Pictured jars, spices or other items are not included.


Multi-Purpose Versatility
Usable in any room

Kitchen
Bathroom
Craft room
Offices
Bathroom countertop organization
Crafting supplies organization
Nail polish display
Kitchen cabinet organization
Pantry organization
and much more
HSRG Amazon ASIN B07L8RHH3G Home & Kitchen Kitchen & Dining , Kitchen Utensils & Gadgets , Seasoning & Spice Tools , Spice Racks