You probably have several old picture frames somewhere in your home collecting dust. I know I do. They just fill your house and you've been wondering how to get rid of them. But if you have no use for them for storing your pictures, that doesn't mean the frames are doomed for the attic. Just hold on to them as you could put them into so much use by indulging in picture frame project ideas we've got lined up for you.
Turn those frames into something useful, like a board to store your makeup or a way to organize your hair accessories. Your creative genius would really be so elated I promise. Here are fifteen picture frame project ideas for your inspiration. What will you make today?
Picture Frame Project Ideas to Give New Life to Old Frames
1. Tiered Frames Tray
Pallet wood and a candlestick combine with these picture frames to create a gorgeous tiered tray. You could use them to hold fruits for your kitchen décor setting or even as a dining table centerpiece. Only three things, majorly big-sized and small-sized frames,  are needed to come up with this stylish tray that will definitely leave you wondering why you never thought of it earlier on. The palette wood is easily accessible in your local wood store and you need not stress over it.
Image courtesy of What Treasures Await
2. Laced Earring Holder Picture Frame Project Idea
Tired of losing your earrings or having them stored just anyhow? You could create a holder for them from a picture frame and antique-looking lace. What you need to do is have your frame, remove the glass, staple the lace to the back of the frame, and you've got yourself a lovely earring holder. You can paint the frame to match the lace's color.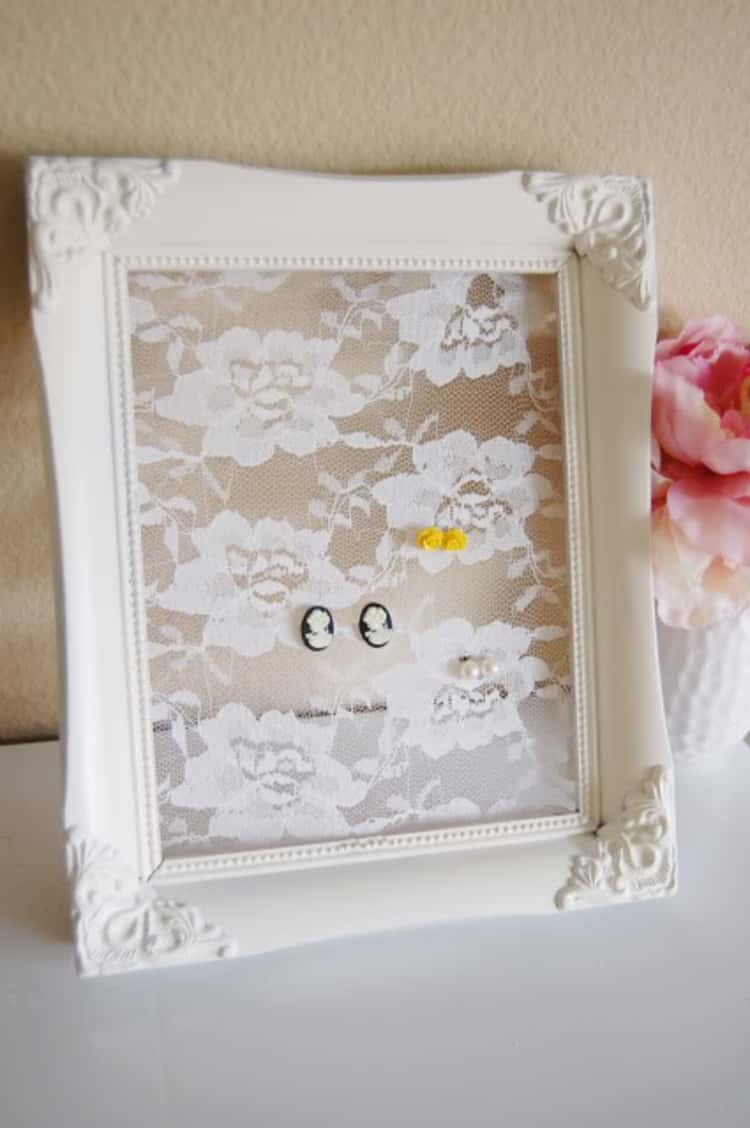 3. Picture Frame Shadow Box
Repurposing objects is a hobby that always makes me so excited. I love seeing things being made into beautiful stuff and DIYing is that thing for me. You too could have an experience of this using your unused frames. Uniquely bring new life to an old, decorative frame by turning it into a shadow box for your special knick-knacks and mementos.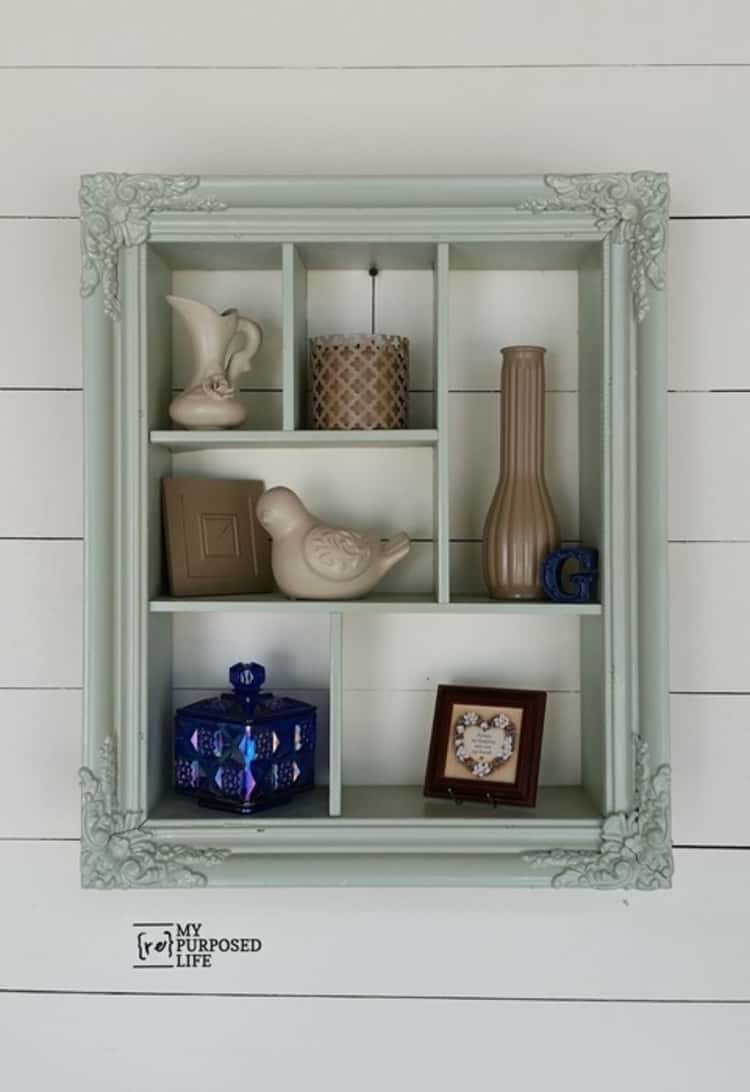 4. Burlap Key Holder From Picture Frame
Get all the more creative by adding some burlap and hooks for a pretty key holder to add to your entryway. No more excuses for lost keys, folks! The materials to come up with this keyholder frame are so much affordable and you could actually have them lying idle in your house. Lego and make your keys traceable as you also put into use your old picture frame.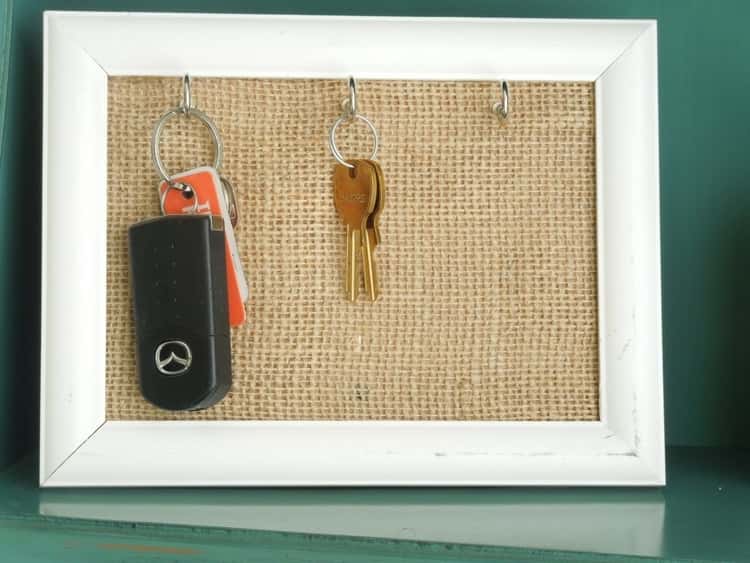 5. Picture Frame Mood Board Idea
A mood board is so much fun coming up with. I can already picture myself having one from an old frame that is lying in my garage come to my store. It is so easy to come up with one as all that is required is to add chicken wire and twinkle lights to create the mood board for inspiration or just a pretty way to display your favorite photos.
The creativity here is so wowing and the photos could just be a gift idea for your loved one. My boyfriend is definitely gonna love this! Can't wait to have him own one from his one and only love.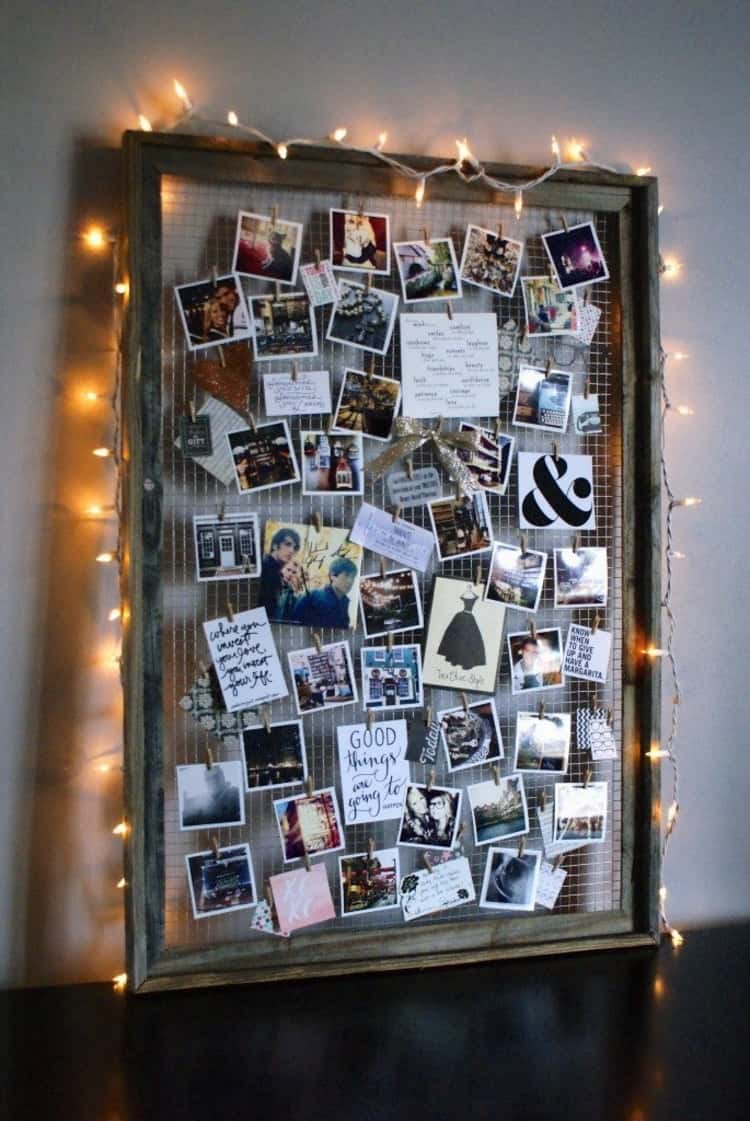 6. Picture Frame Inspired Towel Bar
Unconventional ways of doing things are what we should all leave for. With such a bathroom towel bar how would you not enjoy taking a shower from it? And to know that you can make it yourself is so motivating. Ideally, just use a couple of large and small frames to create this unique towel bar for your bathroom. This is such a brilliant idea!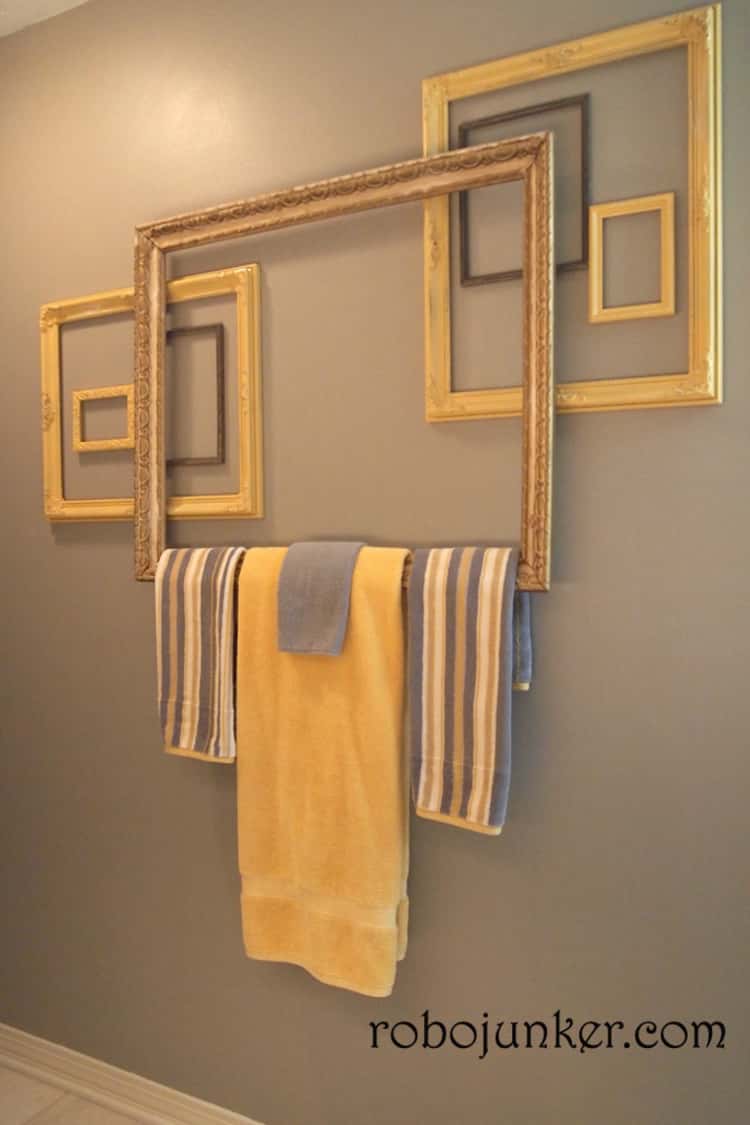 7. Desk Organizer Picture Frame
Down to combining beauty & functionality? Yes? Add layers of fabric to create pockets for this desk organizer. The piece is just so beautiful and adds class to your working desk at home or in your office. To be able to come up with this amazing organizer all you need is a frame, cloth fabric, and glue. Imagine you can get all this stuff tucked somewhere in your home! Who will join me in creating this beautiful piece for our working spaces?
8. Picture Framed Succulents
Wow! I am a plant lover and person. These succulents are so pretty and you could enjoy this beauty too. Create a lovely succulent wall planter. It sure takes a while to fill in, but when it does, it's beautiful! I so much stun this look. And just so you may know these are natural succulents clippings that you can easily access. Do away with the conventional pot way of holding your plants and adopt this uniquely thought picture frame project idea.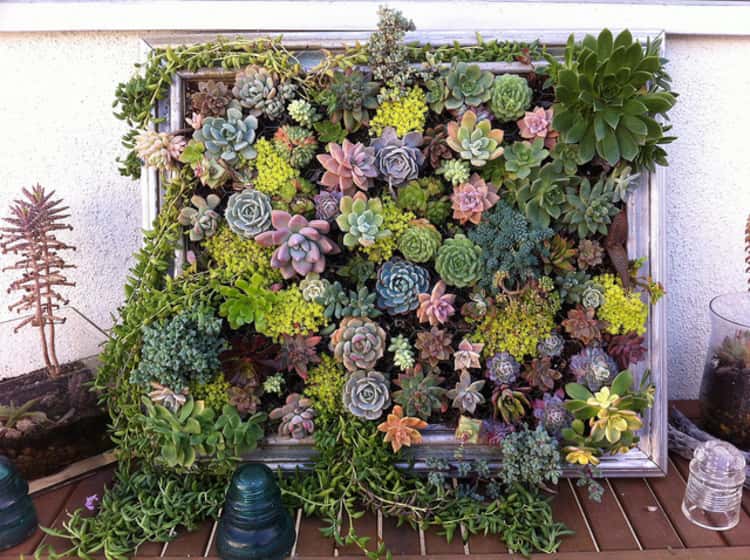 9. Sunglasses Picture Frame Display
Sunglasses deserve to well placed and stored as they tend to be so fragile. With an unused frame, you could just achieve the best storage for your beauties. Creatively add a couple of rows of wire to the back of the frame for an easy way to display your sunglasses. In this manner, you can also keep track of them. Plus now that summer is here your sunglasses are an accessory to your beachwear or shopping fit.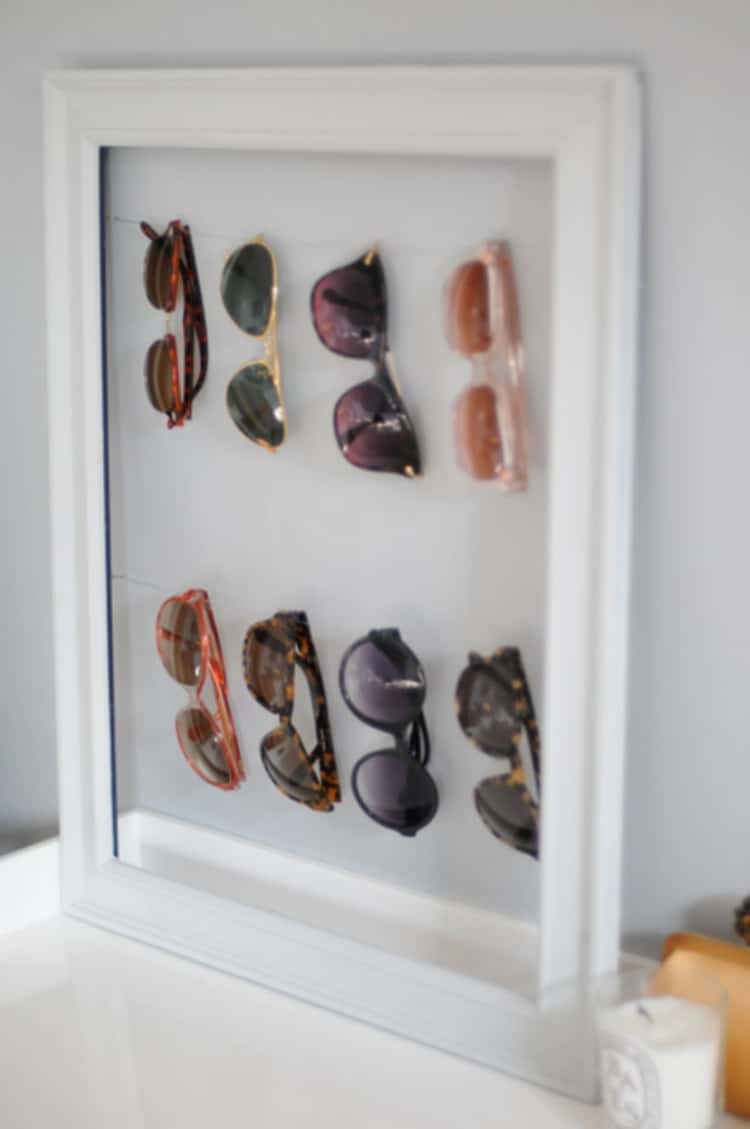 10. Antique Picture Frame Serving Trays
Add handles to vintage frames to make lovely serving trays. What a great way to hang on to an old frame even if it doesn't quite fit your décor. Adding a glass on top of the flowery pattern printed paper makes the trays look so chic and adds aesthetics to them. You could have as many as you want and even hold an antique setting dinner to showcase your collection. Haha.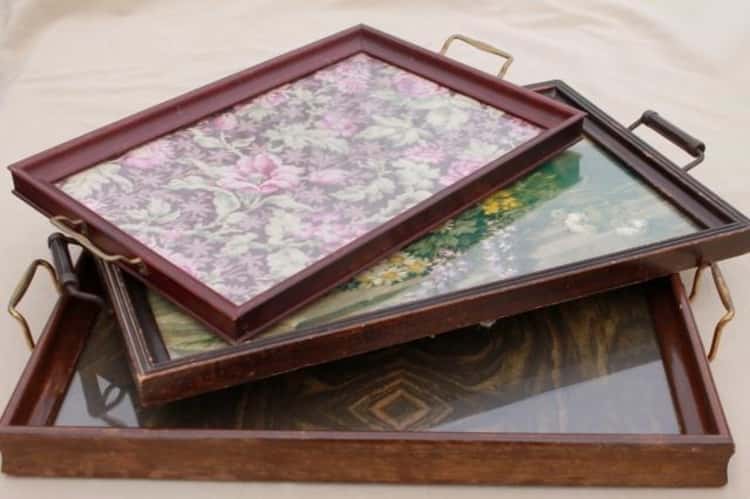 11.  Magnetic Makeup Board
Makeup lovers are going to welcome this idea with so much joy. The makeup equipment is normally so fragile and needs gentle handling and storage. So welcome our genius idea of keeping your makeup organized with this magnetic makeup board. It's genius for keeping your vanity or bathroom counters clear of clutter. The aqua blue color of the frame is so inviting. Just look at the way your makeup stands out with a magnet placed behind the frame to hold them in place!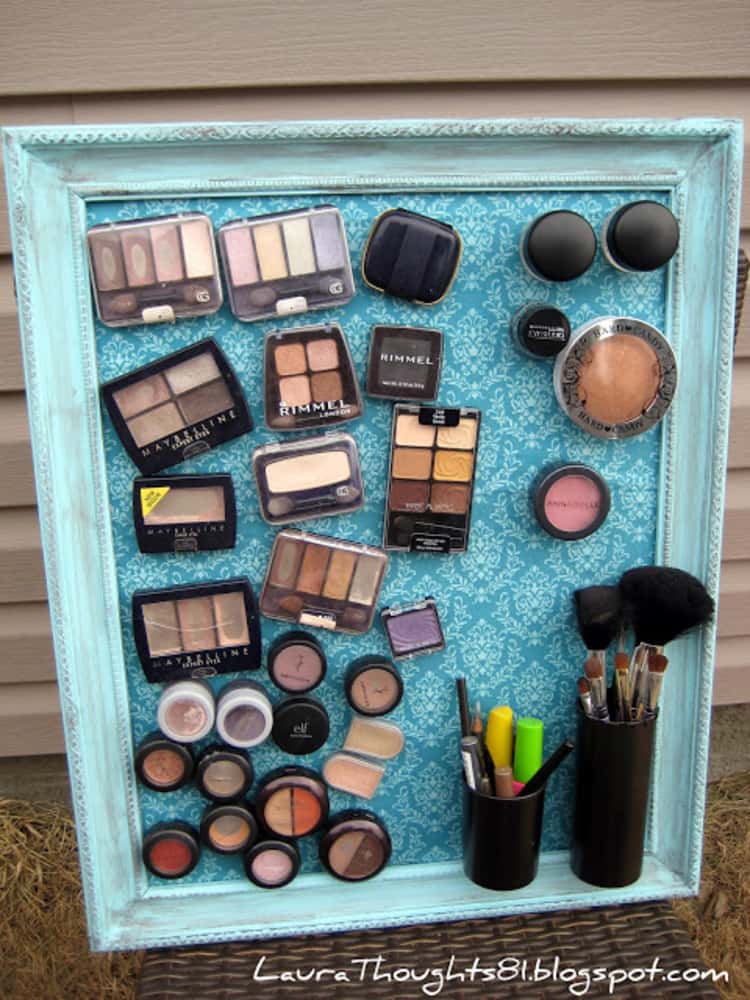 12. Hair Accessories Repurposed Picture Frame
Hair accessories are always bound to get misplaced or mixed up with clothes and other stuff in your dresser or wardrobe. You could create for them a designated place to keep them all together in one place and for ease in retrieval. It is simple as attaching a thread or ribbon to the frame for hair accessories storage. Isn't it pretty? And the colors are an additional décor to your space.
Images courtesy of The Little Umbrella
13. Holiday Framed Wreath
Make a gorgeous framed wreath for the holidays. It's so easy to redesign it based on the seasons coz the frame doesn't get worn out or withered as compared to the normal wreaths used by many. Whether plastic or wooden frame it is bound to last for even years unless you get bored with it but the good thing is you can change its appearance from time to time.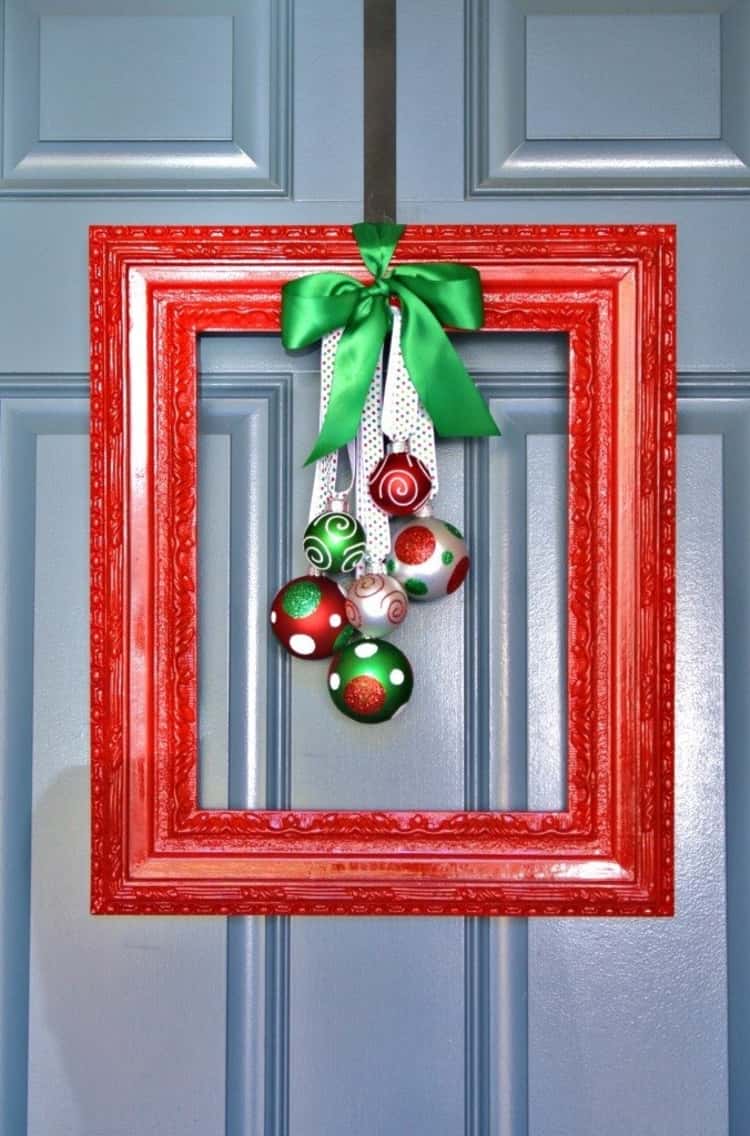 14.Office Frame Chalkboard Idea
Turn an old thrift store frame into a lovely chalkboard for your office. This is a wonderful project for really ornate frames. The chalkboards make great gifts too if you love gifting people. The antique look of the frame pattern is honesty a killer look and would be such a beautiful item to acquire. I think I am just falling in love with the teal blue color of the frame. Something should get me this, please.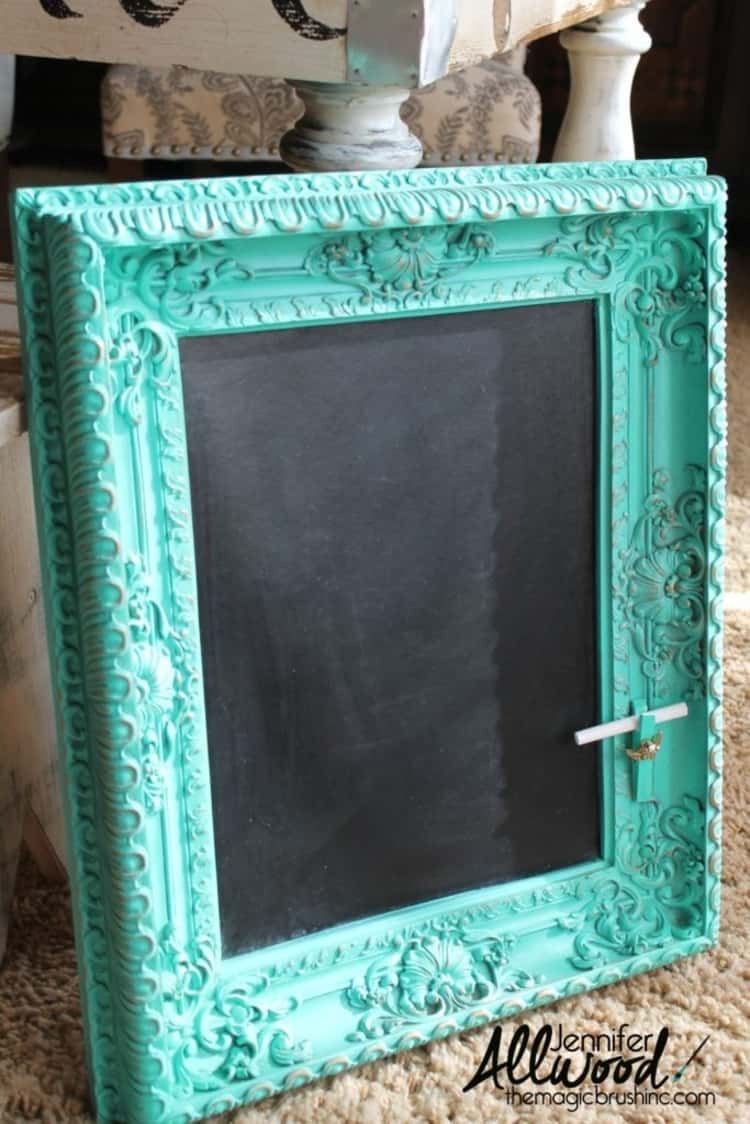 15. Projects Pin Board Frame
Finally, our picture frame project idea is of a large frame and a curtain being used or rather being made into a pinboard for your projects. This would be really nice in a mudroom or in the family command center to pin important forms and any other thing planned by a family and needs to be an often reminder to its members. For teens, the bedroom is another spot you could have to document your school projects or even extra-curriculum activities projects and progress.
Being crafty is something you can learn and put so many things in your home to unconventional uses. Collecting your frames and trying out one of the above ideas could be that thing you have been waiting for to spiral you towards being a crafty and creative person. You can definitely try out any of the picture frame project ideas and leave us a comment on your entire experience. So head on and break a leg!
Repurpose your frames since creation always involves building upon something else.
If you loved these picture frame project ideas we got for you, we bet you will also love the following repurposing hacks: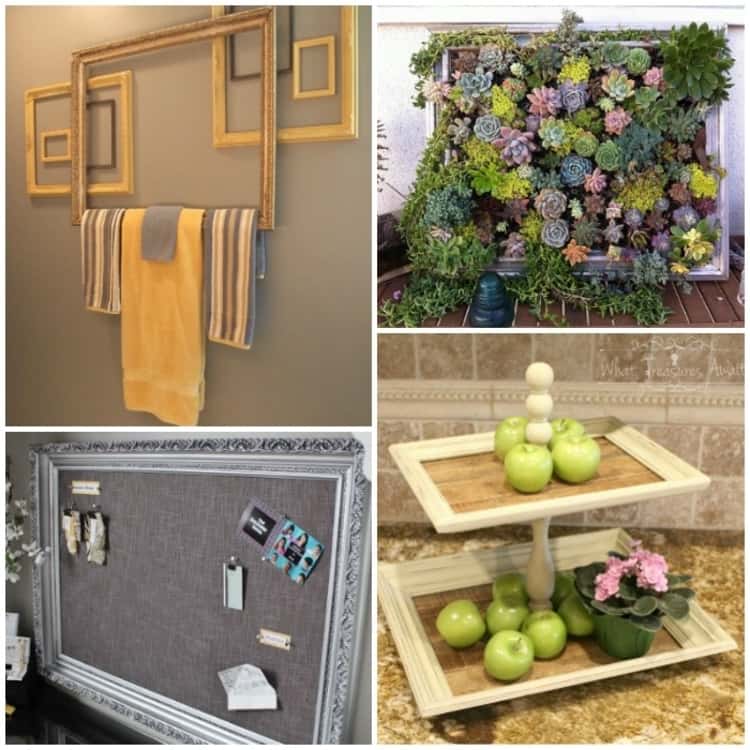 The post 15 Pin-worthy Picture Frame Project Ideas appeared first on DIY House Hacks - One Crazy House.