• DrawerOrganization • KitchenOrganization • OrganizationIdeas • UtensilOrganization • WaysToOrganize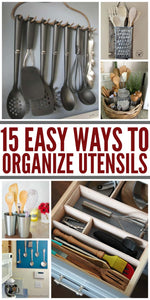 Most of us have loads of utensils, like wooden spoons, whisks, and more. And if you're anything like me, they're a jumbled mess in the drawer… or several drawers. I really had no idea how to organize utensils, until now. Get your utensils in order once and for all with these easy and pretty organization ideas. Decorative Ways to Organize Utensils 1. Organization Ideas for Inside Cabinet Doors Have you ever wondered how to use all that vertical (unused) space in your kitchen? Store your utensils inside the cabinet door to avoid taking up valuable drawer space. This is really...
---
• CordOrganization • Cricut • CricutMaker • GetOrganized • OrganizationIdeas
s. They're easy to customize with a Cricut machine and keep your cables easy to access and wrap back up. This post is sponsored by Cricut and does contain affiliate links. This means that I may make a small commission at no cost to you from items purchased through the links. As always, all opinions are 100% my own. Thank-you for your support! Cord Organization With all of the technology these days, you're bound to have a pile of cords, chargers, and other random cables cluttering up your home. Well, today, I'm going to help you get all of those...
---
• alexandrabeuter • alldaycleaning • cleanwithme • declutter • decluttering • declutterwithme • extremecleaning • organizationideas • organizewithme
36506 views   1886 likes   28 dislikes   Channel: Alexandra Beuter   DECLUTTER AND ORGANIZE WITH ME eXtReMe! This motivational declutter and organization video took me ALL DAY to clean and I share before and after of decluttering and organizing my home! I hope this motivates you to declutter and organize too! What are you working on? Let me know! Please Like, Subscribe, & Click the Bell! Drawer dividers: https://amzn.to/2YLPGD1 Microfiber cleaning towels: https://amzn.to/2YS9IMp EXTREME CLEAN BATHROOM VIDEO: https://youtu.be/iO8e06gMQRM Where I Get My Cleaning Products!!! https://grove.pxf.io/QvB4a CLEANING PLAYLIST: http://bit.ly/2ZLRgkr PREGNANCY PLAYLIST: http://bit.ly/2MeZZcY MY AMAZON FAVORITES: https://www.amazon.com/shop/simplyalexandra321 Everything I'm loving!...