• Bathroom • ipaidforthis • Makeover • Makeovers • Moto • Reveal
SO! Welcome to my airplane-sized bathroom. Okay, that's a little obnoxious to say. I'm sure plenty of people live with smaller bathrooms. Let's call it economic? My whole house is very economic. There isn't one space that isn't used. There's no "bust through this wall and use that empty space between the bathroom and hall closet," because that space is where the fridge is in the kitchen. The closest during this renovation that we got to adding space was when we took out two closets in order to make our bedroom big enough to fit our bed AND a dresser,...
---
• Bathroom • Makeovers • MountainHouse • Reveal • TheMountainHouse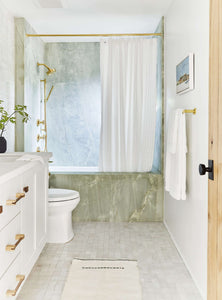 We have at times called this the kids' bath, but the kids only take baths in our huge micro bubble bathtub or our steam shower simply because they are more fun. So this bathroom basically just houses their toothbrushes and middle-of-the-night bathroom runs. Let's show you around and at the end, I'll tell you how it's holding up. But first, what it looked like before: The bathroom "before" was dated and not our style (updated in the early 2000s) and generally needed to be started over and reworked. Originally, the bathtub shower combo was situated in the room length-wise, which...