• Apartment • CollegeApartments • LIFESTYLE • Living
I may be one of the very few, but when I dreamed up my first apartment I first thought of my kitchen. For me, the kitchen is the heart of the home. I have always pictured my friends and family around the kitchen laughing and having an amazing time. We're covering all the bases when it comes to the kitchen - organization ideas, the best kitchen decor, and kitchen cleaning supplies I can't live without. Once you're done here, you'll be a kitchen connoisseur or at least a BSL kitchen connoisseur. Anyways, I am obsessed with my kitchen and I...
---
• AllPostsOnCollege • Apartment • COLLEGE • CollegeApartments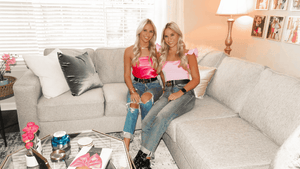 Packing to move into your college apartment can be so overwhelming right? Moving all your stuff out of your dorm to a new apartment can feel really intimidating if you have no idea what to pack. Even if you have a general idea of what to bring you still feel like you're missing something!  Luckily I have moved into a college apartment many times at this point so I have everything that needs to be packed down to a science. Here are all the essentials you need to pack when moving into your college apartment! If you want an even...
---
• Apartment • CollegeApartments
Decorating a kitchen can sometimes be a little difficult and a lot of times is left out completely when planning your decor. But, I have found that the cuter my kitchen is, the more I want to use it. If you feel this way too, you are definitely excited to decorate your kitchen but may need some inspiration on how! I put together my absolute favorite kitchen decor and ideas to give you all the inspiration you need to decorate your apartment kitchen this year.  This post is all about kitchen apartment ideas. TABLE OF CONTENTS: BEST COLLEGE APARTMENT KITCHEN...
---
  Moving into an apartment is so exciting and feels like a major step up from your college apartment or parent's house . I remember moving into my first apartment thinking I was going to have a ton of extra space since it was just me... but no. You are going to want to utilize every last inch of space in your apartment to store all your (amazing) crap without it looking messy. When I first moved into my apartment the biggest challenge was understanding that not every room can be organized the same way. I had no idea, and...