• News • OrganizationTips • Organizing • Spices • ToolsVertical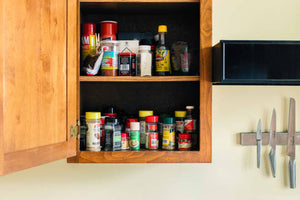 "THESE. ARE. AWESOME." READ MORE... #OrganizationTips #Organizing #ToolsVertical #News #Spices
---
• Amazon • News • OrganizingAndStorage • Shopping • Storage
"THESE. ARE. AWESOME." READ MORE... #OrganizingAndStorage #Shopping #Storage&Organization #Amazon #News
---
• Advice • Kitchen • News • Organization • Organizing
When you hear custom kitchen cabinets, you probably picture sturdy doors with intricate detailing and seamless push-to-open drawers. And while those features can drive up the cost, it's what's happening on the inside that makes going custom pricey. Not only are the depths of the drawers made to fit your space to a T, you can also make every nook function better with vertical dividers, sliding shelves, and integrated racks. But what if we told you there was a way to achieve that same bespoke feel for Amazon prices?  Professional organizer Meggie Mangione was the one who tipped us off...
---
• CelebrityHomes • GetOrganized • News • ProfessionalOrganizer • ShayMitchell • Uncategorized
Shay Mitchell is making room for baby. The Pretty Little Liars star, who is expecting her first child with long-term boyfriend Matte Babel, recently brought in a crew of pro organizers from Life in Jeneral, founded by Jen Robin, to clean up their L.A. home before the little one arrives. Both Mitchell and the brand shared snapshots of the makeover on Instagram, including a comical before-and-after video on IGTV that shows Mitchell desperately trying to squeeze all her Tupperware into a drawer. Here's a peek at what the tidying gurus have tackled so far:  The Nursery Closet   View this post...