News — kitchenorganization
• DrawerOrganization • KitchenOrganization • OrganizationIdeas • UtensilOrganization • WaysToOrganize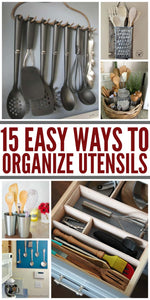 Most of us have loads of utensils, like wooden spoons, whisks, and more. And if you're anything like me, they're a jumbled mess in the drawer… or several drawers. I really had no idea how to organize utensils, until now. Get your utensils in order once and for all with these easy and pretty organization ideas. Decorative Ways to Organize Utensils 1. Organization Ideas for Inside Cabinet Doors Have you ever wondered how to use all that vertical (unused) space in your kitchen? Store your utensils inside the cabinet door to avoid taking up valuable drawer space. This is really...
---
• Commerce • dishdrain • dishrack • fingerprintproof • kitchen • KitchenGadgets • KitchenOrganization • KitchenStorage • newconstruction • newhome • openfloorplan • openkitchen • OrganizedKitchens • simplehuman • simplehumandishrack
I'm not talking about decor or cooking in general, but the way our kitchen is organized. If you have a drawer full of kitchen utensils, cookbooks, and aluminum foil, it's time to give everything their own space. Wouldn't it be nice for all kitchen items to have a designated home? Easy access to spices, cleaning supplies, pots, and cutlery makes all the difference when it comes to food prep. If your kitchen organization skills don't spark joy, it's time to get organized and tidy. 5 Items That'll Make Kitchen Organization a Breeze  1. OXO Good Grips Expandable Utensil Organizer Amazon...
---
• dollartreeorganization • kitchenorganization
Today I'm using Dollar Tree storage to organize my ...
---
• kitchenorganization • Organizewithme • rosshaul • Walmartfinds
dollartreehaul #Organizewithme #rosshaul #Walmartfinds #kitchenorganization Today I want to share some kitchen organization items I bought from Dollar Tree, ...