• HomeOrganization • HowToOrganizeSpicesInTheCabinet • HowToOrganizeYourKitchenSpices • InTheKitchen • KitchenStorage
Are you organizing or spring cleaning something else? See all our posts for home organization. I have to be honest, I have changed how I keep my spices several times over the years. But, on my most recent spring cleaning, I decided to take all my herbs and spices out and reorganize my spice's storage space. How To Organize Spices First, I purged, then cleaned, measured, and purchased a few new spice rack organizers and cabinet storage solutions. Then I set up my spices for efficient usage. The spice organizers I got have made a big difference in how easy...
---
• CordOrganization • Cricut • DesignAndDecor • GetOrganized • HomeOrganization
s. They're easy to customize with a Cricut machine and keep your cables easy to access and wrap back up. This post is sponsored by Cricut and does contain affiliate links. This means that I may make a small commission at no cost to you from items purchased through the links. As always, all opinions are 100% my own. Thank-you for your support! Cord Organization With all of the technology these days, you're bound to have a pile of cords, chargers, and other random cables cluttering up your home. Well, today, I'm going to help you get all of those...
---
• Home • HomeOrganization • Lifestyle • Storage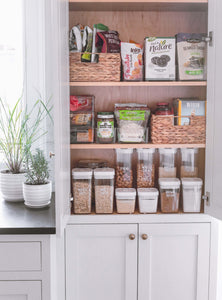 There is something about decluttering and organizing that feels especially therapeutic these days! We're still employing most of these small space clothing and shoe storage tips at our new condo, but our pantry cabinet (the most used corner of our kitchen!) sorely needed some tidying up.  I'll be sharing more on kitchen organization, but today's post is a look at some tools I love for maximizing space inside this cabinet (which is small compared to most pantry standards), while keeping everything organized and accessible! I also use some of these versatile products inside our refrigerator, bathroom, and nursery. 3-pack ceramic planter pots, clear...