The kitchen is the hub of the home, so it's no wonder that things get so disorganized so quickly! Use these smart kitchen storage solutions to give everything a place of its own without taking up more room than you can afford. When everything has a home, it's easier to keep the kitchen clean, clutter-free, and inviting.
It's important to find good and simple kitchen storage solutions that work for your family. But it's even more important that they are easy for your family to keep them this way. And this list is exactly what you're looking for.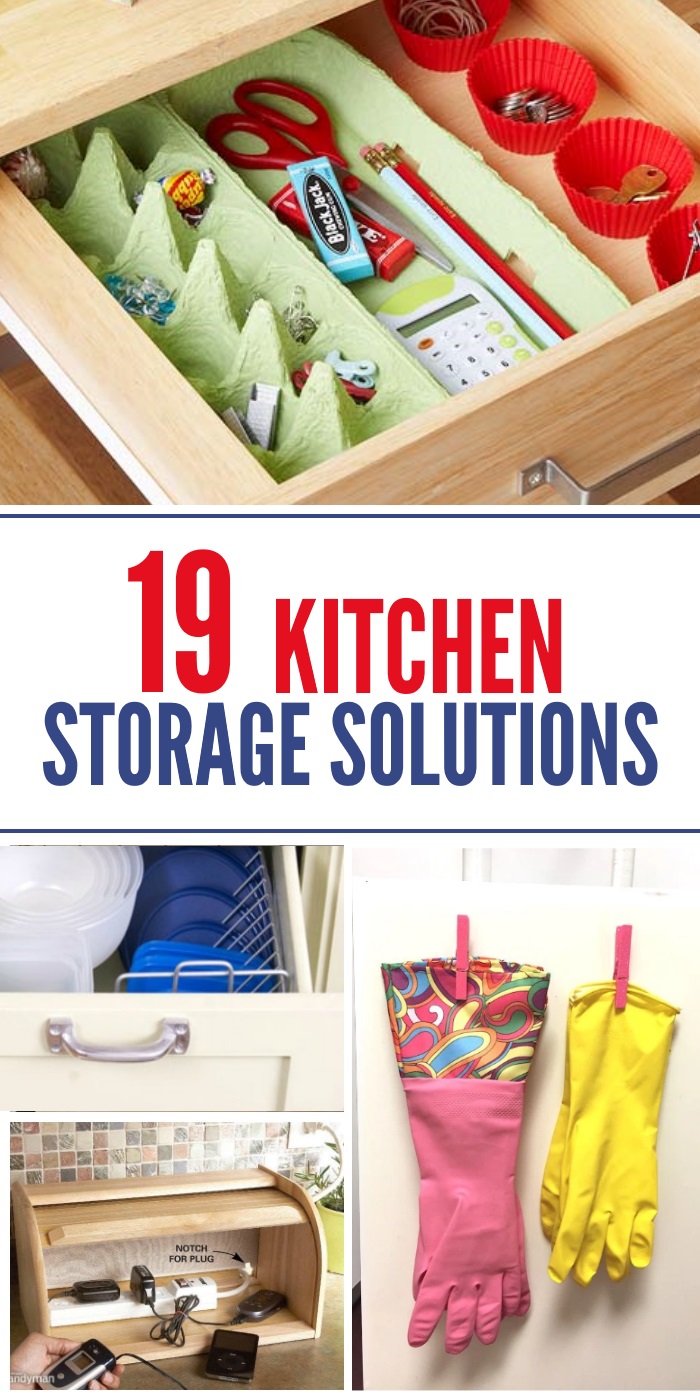 Kitchen Storage Solutions You'll Wish You Had Thought Of Sooner
1. Clip Your Gloves – The Best Solution To Keep Them Out Of Your Way
If you need a designated space around your sink to keep your gloves, I might have the perfect solution for you. What a genius way to store your dishwashing gloves with clothespins on the inside of your kitchen cabinets.
This simple tip is the perfect storage solution to keeping your dishwashing gloves handy for your next load of dishes. Your gloves will be dry and organized! Smart.
2. Mason Jar Kitchen Storage – The Best Way To Store Grains
Chalkboard paint is amazing! You can use it to organize your kitchen in so many ways. In this blog's example, they took chalkboard paint and painted the tops of mason jar lids. Then used chalk to label the contents!
This is a genius way to store foodstuff in the kitchen – easy to swap out when you use the jar for a different ingredient. For some items, you'll want to add the date you put them together. This great kitchen storage solution works for all your spices, too.
3. Kitchen Charging Station – Charge Your Devices While Keeping Them Away From The Table
Create a discreet charging station for your phones with an old bread box. Isn't that clever? It's not only functional, but it's a pretty addition to the kitchen shelf.
As an added bonus, have everyone charge their phones at dinner so no one feels tempted to check on messages or answer calls during the meal. With this kitchen organizer solution, the family will be talking to one another around the dinner table. Bring back mealtime!

4. Bulk Food Storage To Save Much Needed Space In Your Pantry
Bulk Food Storage Idea – If you are like us and love buying beans, rice, and granola in bulk, you're going to love this trick! It will not only help you save money, and keep your food lasting longer in storage, it will also make your stockpile easier to manage!
Make sure to write the date and cooking instructions on the outside of the container with a Sharpie. This idea is a brilliant storage solution for any dry goods you want to keep on hand.
Need more kitchen tips? Check out 12 Clever Ways to Organize Kitchen Drawers and Cabinets!
5. Junk Drawer Solutions And Save Much Needed Space In Your Pantry
Is your junk drawer complete chaos? Use old egg cartons and muffin tin liners to organize your odds and ends. You can easily have a separate compartment of rubber bands, change, safety pins, push pins, and spare keys.
Not only will this kitchen organization solution make finding items easier, but it looks pretty, too. It's also easy for the whole family to keep it that way.
6. Stackable Storage Solutions To Add Space In Even The Smallest Kitchen
Do you have a tiny kitchen with limited counter space? We do too!! One of our readers lives in military base housing and this is her counter space! What a great way to multiply the space while still seeing the fruits and veggies you have waiting to be eaten – stackable bins to the rescue!
Not only is this a sensible kitchen storage solution, but these bins are easy to keep clean, too. You just wipe them and they're good to use again!
7. Get The Tupperware Mess Under Control With A Simple Lid Storage Solution
Slide a CD rack into one of your drawers for upright lid storage. It's so easy to find the lid you need when they're not a jumbled mess!
Make it easy to find the perfect sized lid by putting them away with the smallest lids in front and the larger ones towards the back. This brilliant storage solution will transform your usual search for a lid.
8. Utilize The Back Of Your Pantry Door – Hook Your Kitchen Wrap
Save drawer space by putting your foil and plastic wrap on hooks on the back of the pantry door. This is a quick and easy kitchen storage solution for foil and plastic wrap. This tip helps save space, but it keeps the foil, wax paper, and plastic wrap easy to find.
9. Use A Towel Bar To Store Your Pot Lids
Speaking of back-of-the-door storage, towel bars are excellent for keeping lids to pots and pans in place. The lids fit nicely and you can quickly find the lid you need.
Hang one above your range, too, to put lids there while you're stirring. This idea will become one of your kitchen storage solution favorites. It really keeps your drawers neatly organized.
10. Over the Door Storage Solution For Your Pantry
A small pantry isn't a problem when you utilize over-the-door shelving to take advantage of every inch of space. It's a simple kitchen storage solution that provides a home for all types of household goods.
You can add additional wire shelving to your pantry's door and store cans, small jars, extra napkins, or whatever else you need a bit extra space for.
11. Use Your Fridge – Organize Spices With The Cutest Magnetic Jars
How do you store your spices? Do you have a few favorites, that you use all the time that you'd love to always have on hand? Well, have you considered using your fridge?
Make magnetic spice jars out of old baby food jars. Then, put them on the side of your fridge instead of taking up valuable cabinet space. Now your spices will be within easy reach when you are cooking all your family's favorite recipes. Love this idea!
12. Store Your Cans In a Wire Magazine File Holder And Save Precious Space
A magazine file holder is a perfect size for storing small cans of soup, veggies, sauces, and more.
Your pantry never looked so good! These magazine file holders are great under the kitchen sink for organizing cleaning supplies too!
13. Deep Drawers Solution – DIY Fake Pull-Out Drawers
Want the convenience of pull-out drawers but can't find room in the budget? These fake pull-out drawers are a terrific alternative. Just find some plastic bins to fit your cabinets, and you're all set.
This is a brilliant kitchen storage organizing idea because you can see everything with a quick glance when you pull out the plastic bin.
14. Magazine Files for Perfect Kitchen Storage
Magazine files are also perfectly sized for storing your family's water bottles. Our issue was that they didn't fit standing straight in the drawer, so we had to find a way to keep the bottles laying down. This was the perfect storage solution!
How pretty is this idea? Now you can keep the bottles organized and ready for the next refill.
15. Spice Rack Coffee Pod Organizers
Do you have an old spice rack you're no longer using for spices? It may just make the perfect K-cup organizer!
Keep it right on the kitchen shelf next to the coffee maker. If you're as useless as me in the mornings before coffee, you're definitely going to love this organizer.
16. Under the Sink Kitchen Wire Basket Storage To The Mess Under Control
Store wet sponges and brushes in a wire basket under the sink. This still allows them to air dry, but they're not cluttering up your sink.
They stay out of sight until needed. The sponges are within easy reach when it's time to clean the kitchen.
17. Mind-Blowing Storage Solutions Your Kitchen Needs: Use The Inside Of Your Cupboard Doors For Organization
Hang measuring spoons inside your cabinet door so they're always handy, yet out of the way. Kitchen organization and storage solutions don't have to be difficult.
Add a quick reference sheet for kitchen recipe conversions and you're ready to start cooking!
18. Organize Your Muffin Tins In a Pretty Basket As Kitchen Storage
Store baking sheets and muffin tins vertically in a basket. They're so much easier to find that way. The baskets make a pretty addition to your kitchen. Is it time to get baking?
19. The Brilliant Cabinet Garbage and Recycle System You Need In Your Kitchen
Let's face it… trash and recycle bins are unattractive, so you don't want them taking up floor space in your kitchen. Set up a pull-out garbage and recycling system in one of your cabinets instead.
You'll be so appreciative of having different containers for all of your cans, garbage, and glass containers. This makes recycling easier for everyone in the household. Even the kids can follow this orderly system.
Which is your favorite storage solution? We'd love to know in the comments below!
For more brilliant kitchen ideas, check out these posts:
The post 19 Brilliant Storage Solutions for the Kitchen appeared first on DIY House Hacks - One Crazy House.